Community Involvement is Important to Us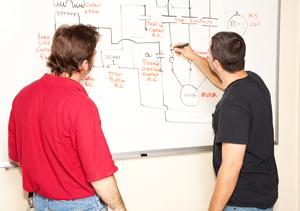 The Central Virginia Electrical Contractors Association makes every effort to participate in local job fairs along with the Department of Labor & Industry at the surrounding county and City of Richmond high schools. Taking time to meet and inform prospective enthusiastic high school students who are interested in the electrical industry benefits all contractors and training programs alike. Sparking their interest and providing them insight as to the tremendous opportunities and technological advancements within the electrical industry begins the process of adding to a workforce needed for our country's future.
The Association also is involved with the local high school program's Technical Training. The Training Director and Association members participate in the surrounding school system's annual residential wiring competition providing support, materials and judging. The school who's student wins the annual completion is presented a trophy by the CVECA to be displayed in the Technical Training class. This trophy is passed on from winning school to wining school annually. This involvement allows our contractor members to see and interact first hand with what will prove to be the future of the electrical industry's workforce.
Interested in Joining the CVECA?
If you would like to become a member of the CVECA, simply fill out our Membership Application and return it in to us.

Download Application